We think we have some of the best people on the
Cedars-Sinai

team.

And that's why we want to make sure you have every opportunity to do what you love, now, and in the future. So, behind the scenes, we're working hard to make sure you have the training, support, technologies, encouragement, and opportunities you need to find your dream job at Cedars-Sinai, again and again.
Advancing your career within Cedars-Sinai
We value the pursuit of career advancement and mobility. It's a part of our culture. And it's the reason our organization becomes stronger. Because when you learn and grow, we all get to move forward.
"I came here thinking it'd be just to get some experience and move on. Five years – and five roles later – I'm still here and loving it."

– Aramik Yarian,

Human Resources
FAQs about transferring within Cedars-Sinai
If you're a current Cedars-Sinai employee, how do you apply for a transfer?
First, use this website to apply to a job. Each job has an "APPLY AS AN EMPLOYEE" button. Click on that to start the application process.
How long do you need to work in your current position before you're eligible for a transfer?
You must complete at least six months of service in a department before you become eligible for a transfer.
Build your profile, as well as a big springboard
We want you to be the first to know about new jobs that interest you. That's why we've made it easy to get Job Alerts. Here, you can choose the job categories that interest you and be alerted when new job opportunities are posted. So be sure to sign up for Job Alerts today. And learn more about transfers with our affiliates.
Be the kind of you that you always wanted to be
We're dedicated to helping you take your expertise to the next level, whether it's learning programs, tuition reimbursement or performance-improvement projects. We want you to be able to earn the additional certifications and degrees you need to help you advance your career. You can find out more about tuition and educational assistance in the HR Service Center website.
Our numbers do more than just add up
More than 75% of our direct-care nurses have a specialty certification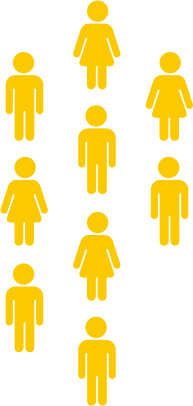 9 out of 10 direct-care nurses have a BS
in Nursing
or a master's